Welcome to Sitting Pretty. In this guide I want to share 10 simple steps that can help you stop losing your hair.
We all know women mark their territory by leaving their hair everywhere; this is a well-known fact.
The shower, hair.
The bed, hair.
Open a packet of chips, and a clump of hair jumps out.
Hair loss is all fun and memes until it becomes a problem.
A little bit of hair loss is natural and nothing to worry about.
But when it becomes chronic and starts to affect the thickness and condition of your hair?
Well, that's no laughing matter.
Read next: How to protect your hair while you sleep


What causes hair loss?
For any hair loss home remedy to work, you first need to get to the root of the problem.
(See what I did there, lol)
Unfortunately, there are a lot of reasons you might be losing your locks.
So figuring out precisely what is triggering your thinning might not be entirely possible.
However, there are a few widespread causes of hair loss in women that are worth considering.
One of the most obvious causes is stress.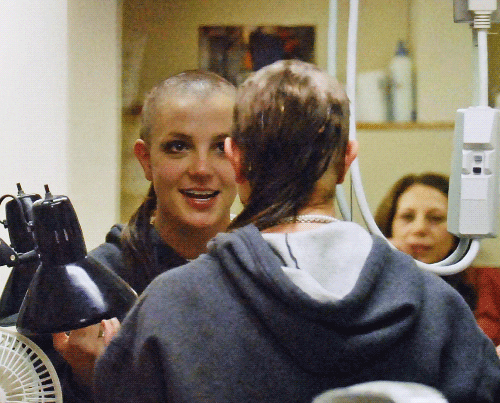 Stress doesn't always cause us to go "full Britney" and shave our heads, but it can cause our hair to exit all on its own.
Hormonal imbalances and nutritional deficiencies can also cause sudden and prolonged hair loss. As well as the quality of the hard water from your shower used to wash your hair.
There is also a range of medical conditions such as alopecia, PCOS and Thyroid issues that cause hair loss, along with various other symptoms or conditions.
While there are lots of sciencey reasons that your locks may be lacking, it can also be as simple as the kind of birth control you're taking, the hairstyling tools and products you're using or just plain old genetics and age.
So before you go and dial 000 or start loading up on supplements, try making some small changes to your daily routine first.
If you do suffer from associated health problems such as PCOS, have noticed your hair loss worsening or if the hair loss is severe, sudden and extremely prolonged, it is probably best to consult your GP or a hair specialist.
In the meantime, I have rounded up my top 10 hair loss home remedies that you can do right now.


1.Keep your scalp healthy
I can't stress this enough;
Healthy hair starts with a healthy scalp.
There's an all too common myth that in order to make your hair grow, you need to treat your hair.
Yes, treating your hair will make your hair look healthier and even thicker.
But healthy hair is produced from the hair follicle.
So to make your hair grow faster and stronger, you need to maintain a healthy scalp first.
What does it take to have a healthy scalp?
Mainly a clean, hydrated scalp and healthy blood flow to your scalp.
You want to keep your hair follicles cleansed to avoid any oil build up that may clog the follicle and prevent hair growth.
Learn how to cleanse your scalp correctly here.
Meanwhile, the more you stimulate blood flow to the scalp, the more your hair will grow.
This is because blood flow delivers the nutrients your hair needs to grow, from your scalp to your hair.
Some easy ways to stimulate blood flow to your hair are:
Give your head a gentle massage whilst washing your hair.
Using a bristle boar brush and gently rubbing the brush in a circular motion on your scalp once or twice a week.
Try the

Inversion Method

(this can only be done one week per month for best results). Flip your hair upside down, give yourself a head massage for 5 minutes everyday for 7 days, every month. This helps blood flow to the scalp circulate and makes hair grow, because blood flow = nutrients to the hair follicles.


2. Keep your hair clean to keep your hair in!
While the argument of what is better still has not been solved, turns out, both shampoo and conditioner are equally as important when it comes to preventing hair loss.
Something to keep in mind when washing your hair is the type of products you are using.
The wrong kind of shampoo can cause your hair more harm than good.
While it's tempting to take advantage of the discount haircare in your local supermarket, dropping a few extra dollars on high quality stuff could save you more than a few strands.
Drug store or supermarket shampoos are more often than not loaded with chemicals, including sulphate and paraffin, which can cause your tresses to become brittle and break.
As Billy says, conditioner "leaves the hair silky and smooth."
This is, of course, true, and very important to prevent breakage.
To achieve silky, strong and smoother hair, look for a conditioner which is loaded with amino acids.
Your scalp type should also be taken into consideration when purchasing shampoo and conditioner.
You should also structure your hair washing schedule around your scalp type, not your social life.
For example, over washing a dry scalp can cause your hair to fall out and vice versa with under washing an oily scalp.


3. Get thicker hair instantly with the Sitting Pretty Halo
Call me bias, but The Sitting Pretty Halo is one of the easiest and fastest ways to boost your hair's volume.
annnd it also looks freakin' bangin'.
Whether your locks are long or short, we offer three different halo thicknesses, including: Fine, Medium and Thick.
(Image)
With our extensive range of colours which can be customised, there is undoubtedly a halo to solve your thin hair problems, instantly.
After all, that is what we do.
So if you have thin hair, here's what to do;
Send us a picture, and we will colour match you.
Place your order.
And wait at the window until the postie arrives!
once you've received your pressie, GET YOUR SITTING PRETTY HALO CUT.
This is extremely important.
The Halo will almost double in thickness when cut to match your hair, and it will also save you from looking like you're rocking clip-ins form the early 2000s.
After that, style The Sitting Pretty Halo and enjoy hella thicc hair.
Learn how to get thicker hair using The Sitting Pretty Halo:

Why should you have to wait when you can have the thick luscious locks of your dreams right now?
Halo Hair Extensions are the perfect way to achieve thicker hair instantly while you wait for your natural locks to follow suit.
While you might think clip-ins or permanent extensions are the best way to fake thick locks, you'd be wrong.
Tape, glue, micro-beads, weaves and clip-in extensions are extremely damaging for your hair, and while your hair might appear thicker when you're wearing them, they actually do the opposite.
Meaning, they cause hair loss!
And in many cases, even bald spots.
Eek.
So if you want thicker hair, avoid all hair extensions except for halos.
Halo Hair extensions are the only hair extensions on the market that won't damage your hair.
They don't cause any hair loss as they simply sit on your head, rather than stuck to your fragile strands.
Halo hair extensions do not use any harmful and acidic adhesives or clips which pull on your locks and cause hair loss.
They are even gentle enough to be worn every day while you help your own hair heal.


4. Unclog your cuticles with apple cider vinegar
Apple Cider Vinegar is my go-to for just about any natural home remedy, so why should home hair loss remedies be any different?
For real, whether it's skin, hair, sunburn or cleaning products, if you're not team ACV, you can't sit with us.
So, why is apple cider vinegar good for hair loss?
Well, like dryness, clogged hair follicles are another reason hair falls out.
Blocked hair follicles cause a build-up of bacteria and decrease the presence of natural oils.
This causes hair loss.
Apple Cider Vinegar helps clean the hair, preventing the hair follicles from becoming clogged in the first place.
Simply pour apple cider vinegar over shampooed hair and rub into the scalp, leave it for 20 minutes.
Rinse thoroughly and condition as usual.
Enjoy stronger, cleaner, frizz-free and ultra-shiny hair as a result.


5. Minimising Brushing
Stepping out of the shower with freshly washed locks, the temptation to reach straight for the brush is strong.
However, straight after shampooing is when your hair is the most prone to breakage. Wet hair is weak hair!
So brushing your hair or even giving it a rough towel dry can be enough to make your fragile cuticles snap.
Instead, wrap your wet strands up in an old T-shirt and leave them for 10 - 15 minutes.
Once your hair has had time to dry, detangle it with a soft brush such as a tangle teaser or a wide-tooth comb, then gently blot (not rub) out the remaining moisture.
Leave your locks to air dry.


6. Fight bacteria with onion juice
HEAR ME OUT.
Some really smart science dudes and dudettes published a study in the Journal of Dermatology which proves that onion juice supports hair growth in a big way.
The onion, which you may know as a humble kitchen staple, or of Shrek fame, makes a fabulous home hair loss remedy for many reasons.
They contain high levels of sulphur which helps to increase blood circulation, they promote collagen growth and provide antibacterial properties to fight scalp infections.
This means onions don't just prevent hair loss but, also promote hair growth too.
Grind and squeeze one onion to extract the juice.
Apply this directly to your scalp using a cotton swab or your hands and leave for 20 - 30 minutes.
Rinse your hair with lukewarm and wash it as usual.
Repeat this once a week.


7. Improve your hairs protein with honey and greek yogurt
The pintre-sphere is full of DIY oil masks claiming to the next big cure-all when it comes to hair care.
But those whose hair is thinning may find that oil treatments aren't for them.
(Based on personal experience, I tend to look like the human equivalent of fast food fries if I dare to add any oil to my hair)
To avoid looking like you lost a battle with a grease vat, thin-haired honeys should opt for some honey in their thin hairs.
This sweet substance is perfect for hydrating and cleaning your locks, locking in moisture as well as scrubbing away any dirt and grime from your scalp.
Combine one tablespoon of honey with two tablespoons of natural yogurt for the perfect home hair loss remedy.
Full of protein and fat, yogurt is the ultimate home hair loss remedy as it not only strengthens and protects your mane but conditions it too.
After combing the ingredients, massage the mixture into your scalp and ends, leaving it in for 15 - 20 minutes.
Wash thoroughly as you normally would, using only a small amount of conditioner.
Use this mask once a week.


8. Keep your cuticles closed with cold showers
As females, we tend to have our showers hotter than hades.
But did you know hot water can damage your hair and burn your scalp?
Hot water dehydrates your hair, causing your strands to become dry and brittle.
As well as washing away your sins, it also washes away your scalps protective oils and causes its pores to open.
This causes your scalp to create more oil, essentially making the entire hair washing process redundant.
In simple terms, washing your hair in water which is too hot makes your hair oilier, causing you to wash it more often.
Not only is that very annoying, but it is also very bad for your hair.
Because, the more you wash your hair, the more hair you lose!
So, instead of scolding your scalp, keep your showers cool.
Cold water is better for your hair and skin as it helps to minimise pores and close cuticles.
This will not only mean your hair is shinier and stronger, but it will also stay put in your damn head.


9. Diet & Nutrition
Your diet can make or break your hair.
Literally, poor nutrition can cause hair breakage.
So if you want thicker locks it's time to get serious about your nutrition.
... *Puts down second (fifth) cupcake...
... **Stops counting caffeine as a meal.
Eating a high protein, low sugar, healthy diet is probably the most essential step when it comes to getting thicker hair in a month.
And, keeping your hair thicker in the long run.
What you eat directly influences your hormones, and in turn your hair growth cycle, so your diet controls whether or not your hair reaches it's full thickness potential.
Not just that, but your diet also provides the nutrients needed for thick, healthy and strong hair follicles.
So, what foods should you eat to get thicker hair in a month?
As I mentioned above, high protein foods are essential for hair growth, and sugary foods are well, not necessary, to say it nicely.
In fact, if you're eating too many sweet treats or carbs it won't matter how much protein you're packing in.
So stop the sugary binges and eat more;
Nuts and seeds (ground flax seeds are great)
High protein fish such as salmon (eat in moderation due to high mercury count)
Eggs
Walnuts, almonds and other nuts containing fatty acids
Greek yogurt
Green black and pinto beans
Leafy greens
Berries
Citrus fruits
Lean Meat


10. Meditation: It's not just good for the mind

Get your hair to name'stay in your head by reducing your stress levels.
Mediating just five to ten minutes a day has been shown to reduce or even reserve stress-related hair loss.
You might be wondering how stress causes hair loss?
Stress on its own can not only cause your hair to weaken and shed but, it can also cause people to pull their hair out to relieve frustration.
It has also been known to trigger a range of conditions such as Telogen effluvium, Trichotillomania and Alopecia.
Meditating helps to calm the nervous system, focus the mind and reduce stress, which in turn will prevent future hair loss.
If you are experiencing above-average levels of stress, you should consult your GP.